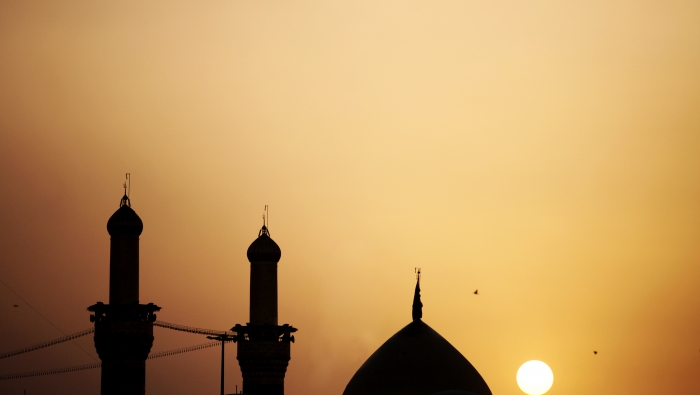 The repairing works and modifications that the holy shrine had witnessed since the martyrdom of Imam Hussein (pbuh)until the present day are included in a form of a timetable with a reference to the date of each one. This timetable is quoted from the book entitled (Al-Hussein and Al-Abass shrines history) (pbuh) .
1-The martyrdom of Imam Hussein (pbuh)in Karbala
1Oct. 680/ 10 Moharam  61 A.H
2-Al-Mukhtar Ibn Ubaida Al-Thaqafy built the mosque surrounding the holy grave and a dome over the grave. Two entrance gates were put for the mosque at 65 A.H
3-A roof for the shrine was built during the reign of the Abbasid Caliph Abi Al-Abbas Al-Safah at 3 August  749 /132 A.H.
4-The roof was destroyed during the reign of Abi Ja'far Al-Mansur at 21 March 749 /        146 A.H
5- The destroyed roof was rebuilt during Al-Mahdi reign at 11 November 774 /158 A.H
5- During the reign of the Caliph Harun ar-Rashid, the mausoleum was destroyed and the lote-tree that stood besides the grave of Imam Hussein was cut down 22 June 787 /171 A.H
6-The destroyed roof was rebuilt during Al-Mahdi reign  at 25 Oct. 808 /193 A.H
7-The Caliph al-Mutawakkil destroyed the mausoleum and ordered the nearby land, including the grave, to be plowed 15 July 850 /236 A.H
8-Al-Muntasir reconstructed the shrine. A flag column was put on it to be recognizable by the visitors, many shi'as started to travel and settle there at 17 March 861/ 247 A.H
9-The construction built by Al-Muntasir collapsed; the ruler of Tubristan Mohammed son of Mohammed son of Zaid rebuilt it at 8 June 886/ 273 A.H
10 -Al-Da'ee Al-Alawy constructed a dome for the shrine. Two roofs were built and a fence was constructed for the shrine 23 March 893/ 280 A.H
11-The Buwayhid emir Uthid ad-Dawla built the dome and surrounding   porches were constructed, an ivory sepulcher was constructed. He also constructed the city of Karbala by making houses and the city boundary. Omran ibn Shahin at that time also constructed a mosque adjacent to the shrine 29 August 977/ 367 A.H
12-Minster Al-Hassan ibn Al-Fadhil rebuilt the holy shrine after big Fire destroyed at 10 June 1016/ 407 A.H
13-The king Shah visited the holy shrine and reconstructed the shrine's outer fence at 1086/479 A.H
14-The tomb was renovated by an-Nasir li-Din Allah at 4 Feb. 1223/ 620 A.H
15-Sultan Uwais Bin Al-Hassan Al-Jala'iry reconstructed the dome and walls of the holy shrine at 8 Sept. 1365/ 767 A.H
16-Sultan Uwais Bin Al-Hassan Al-Jala'iry reconstructed the dome and the walls of the holy shrine at Feb. 1384/ 786 A.H
17-The Safavid shah of Iran Ismail constructed a sarcophagus of inlaid work over the real grave at 1508 /914 A.H
18- The Safavid Sultan Ismaiel visited Karbala and built a box made of teak wood on the grave at 1514/ 920 A.H
19-Sultan Ismaiel Al-Safawy donated a big fabulous silver net to be put on the grave at  932/ 1526 A.H
20-Ali Basha, the governor of Baghdad called (Wannd Zadah) renewed the dome's construction at1575/  983 A.H
21-Abbas Safavid Shah built a mesh of copper on the grave and decorated the dome with Kashani tiles at 5Nov. 1622/ 1032 A.H
22-Othman Sultan Murad IV whitewashed the exterior of the dome at 15 may 1638         /1048 A.H
23 -The wife of Nadir Shah gave orders to an overall reconstruction of the holy shrine and donated money for the shrine at 1722/ 1135 A.H
24-Sultan Nadir Shah visited Karbala and ordered to renovate the construction and offered many gems to the treasury of the shrine at 1742/  1155 A.H
25-Shah Muhammad al-Qajary plastered the dome with pure gold at 7July 1796/ 1211 A.H
26-Wahabbies attacked Karbala, destroyed the shrine, and looted the sepulcher at            14 may 1801 / 1216 A.H
27- The shrine destroyed, Karbala's people wrote a letter to the Sultan Fatih Ali Shah Qajary to help in restoring it, and he ordered to renew the dome and replace its golden plates, he sent an envoy to supervise the work at  1812/ 1227 A.H
28- Sultan Fatih Ali Shah renewed the silver Mesh and decorated the golden Iwan with gold and reconstructed what the Wahabbies had destroyed at 21 Nov.1816/ 1232 A.H
29- Sultan Fatih Ali Shah built the two domes of the holy shrines of Imam Hussein and Abbas, he appointed his deputy Sadir A'dam (Ibrahim Khan AL-Shirazy) at 1834/ 1250 A.H
30- Sultan Nasir Al-Deen Shah Qajary renewed the construction of the dome of the holy shrine of Imam Hussein (pbuh)and some of the gilding at 1856/1273 A.H
31- Nasir Al-Deen Shah expanded the courtyard of the holy shrine at 16.May 1866/ 1283 A.H
32- Renovating the base pillars of the courtyard at 1932 /1351 A.H
33-Tahir Saif Al-Deen (Dai'yia Al-Ismai'ely) reconstructed the silver screens attached to the shrine at 21.Feb 1939/1358 A.H
34- Tahir Saif Al-Deen renewed the western minaret at 29.Jan1941 /1360 A.H
35- The surrounding houses of the holy shrine and the religious schools including the minor courtyard and the minaret (Abid minaret) all  demolished on the pretext of opening the Hai'er street at 1947/ 1367 A.H
36-The Late Sabry Al-Hilaly, the handwriting artist, wrote the Sura (chapter) of (Al-Daher) in the holy shrines of Imam Hussein (pbuh)and Abbas and started working on the eastern side which was later attached to the courtyard and he used the precious Kashani bricks for decorating the Iwans at  1950/1370 A.H
37-The dome reconstructed and golden bricks were interposed for the second time at 1951/1371 A.H
38- The decorated mirrors of the holy shrine were renewed along with all porches, precious marble were brought from Asfahan to cover the walls of the two holy shrines, the upper part of the golden Iwan was gilded at 1953/1373 A.H
39-Reconstruction committee raised the Iwans and paved their walls with Kashanin bricks at 1964/ 1383 A.H
40- A Charitable person donated marble pillars to the golden Iwan at 1965/ 1384 A.H
41-The marble pillars were brought from Iran, they started demolishing the old Iwan's ceiling and the cranes were sent to set up the marble at 1968/ 1388 A.H
41-Iron pillars were connected with   underground bridges as bases of the marble pillars at 1970/1390 A.H
42- The cornerstone was placed for the building of the golden Iwan's structure at 1973/ 1392 A.H
43-A plan for modernizing the shrine of Imam Hussein (pbuh)was put into action, it included rebuilding the golden Iwan with marble pillars and the western side of the courtyard was demolished and its walls paved with Kashani bricks at 1974/ 1394 A.H
44-The renovation process of the two holy shrines was launched, the front façades were covered with Kashani bricks, and a library and museum were built on the western side of the holy Imam Hussein (pbuh)shrine at 1975/ 1395 A.H
45-Ministry of Endowments decorated and restored the golden Iwan with Kashani and mosaic at 1976/1396 A.H
46-The related parts of the outer fence (hotels and houses and trade shops) were demolished, an outer fence of 11, 3 meters high surrounding the shrine was built with rooms and halls at 1980/1400 A.H
47-Establishing of the engineering body in the holy shrine that is the "committee of projects and quality control" (called after endorsing the new management law of the holy shrines the Section of Engineering and Technical Affairs), this Section established after the fall of the tyrant Saddam by the authorization of the highest committee formed by the highest Religious Authority to manage the holy shrines of Karbala , this committee has  started on the day of its establishment,a development campaign to the holy shrine, it included replacing the outer fence's rooms with service and managerial and engineering rooms instead, in addition to ten technical workshops, a religious school and two libraries ( one electronic) and a guestroom for the visitors and various stores and a security video monitoring system at 2003/ 1424 A.H
48- The establishment of the Media Committee which consists of various departments, they are: audio and visual production Dep., It produces all the audio and the visual related to the holy shrine of Imam Hussein (pbuh)whether those related to the other sections fro documenting them their work or to record the different and various activities during the days of the special occasions when they exercise the special rites, also the section of celebrations making and supervising the T.V. channels work and Internet section which job was limited on receiving the e-mails and political reports making at 2003/          1st Ramadhan 1424
49-Two halls were opened in the western fence side; cultural sections were opened including developing the Internet section which designed the holy shrine's website and forming the publication section which issues a monthly magazine and weekly newspaper and the visitor's guide with many different paper editions at 2004/ Rabee Thani,1425
50- A video broadcasting system from the holy shrine on the internet was opened for the religious and cultural activities of the holy shrine; it was the first of its kind among all other holy shrines in the world at 2005/ 28,Thi Al-Hija, 1426
51-Inaugurating the project of building the second floor with (4000) meters, it includes a big hall for the religious commemorations and conferences, another one for the antiques museum and many other study halls and a researches centre related to the library and the manuscripts room and many other managerial and technical rooms at 2005/1425 A.H
52- Launching the project of covering the two minarets with gilded copper bricks and it was at the expense of the shrine's earnings of two years after the tyrant's fall, Iraqi teamwork has the lead in the main technical works and an Indian workers working on the adhesion and fixing works at 2005/1426 A.H
53-Launching the project of covering the two minarets with gilded copper bricks and it was at the expense of the shrine's earnings of two years after the tyrant's fall, Iraqi teamwork has the lead in the main technical works and an Indian workers working on the adhesion and fixing works at 2006/1427 A.H
Attachments