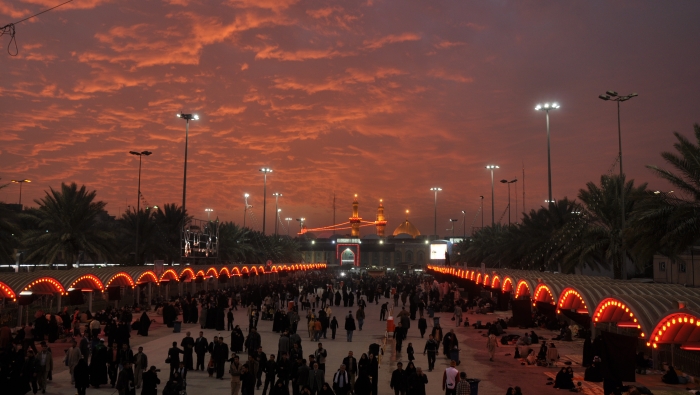 - 12 of Muhharam 61 680CE, the history of new Karbala had started after the Battle of Karbala when the tribe of Bani Assad buried the Holy bodies of Imam Hussein (pbuh)and Abbas (pbuh)and other companions.
- 247 A.H 861 AC, al-Muntasir al-Abbasi rebuilt the Holy Shrines and built houses around them, the city had suffered during his father's reign al-Mutawaqil who destroyed and damaged the city.
- 372 A.H 982 AC, the first fence was built around the Holy Shrine and it measured 2400 meters.
- 412 A.H 1021 AC, Minister (Hassan Son of al-Fadhil) built the second fence of the Holy Shrine with four doors made of iron.
- 941 A.H 1534 AC, Iranian Shah Isma'eel al-Safawy visited Karbala, he ordered to dig a river in the city and renewed the Shrine of Imam Hussain (pbuh)
- 953 A.H 1546 AC, Sulaiman al-Qanoni repaired the two Shrines.
- in 19th century an Indian King visited Karbala (after the Wahabies attack in 1216 A.H), he built a tight fence round the city with markets and beautiful houses for those who lost their homes in the attack.
- 1217 A.H 1802 AC, Sayyid Ali al-Tabatabiey (author of Riyad book) built the third fence to the city after the Wahabies attack, he built six doors for the Shrine and each door was given a particular name.
- 1276 A.H 1860 AC, telegraph lines had established in the city and the city was connected with the world.
- 1285 A.H 1868 AC, during the time of the reformer (Midhat Basha) governmental buildings were constructed and many markets had built.
- 1332 A.H 1914 AC, after the end of the 1 world war modern buildings were built and avenues opened.
Attachments