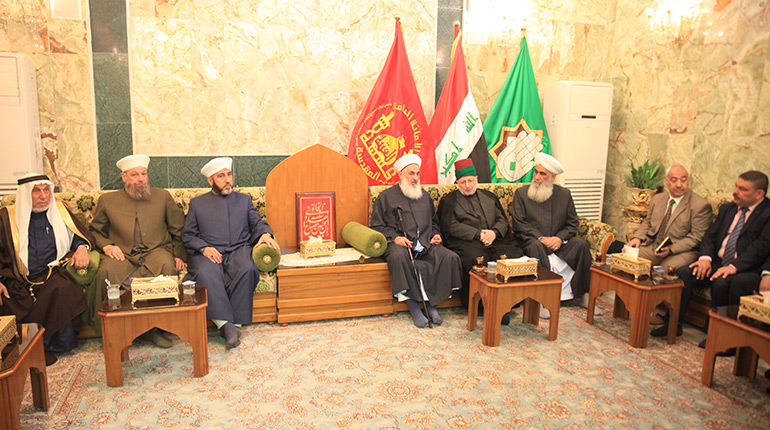 The head of Sunni Muslims in Iraq, Mufti (a Muslim legal expert who is empowered to give rulings on religious matters) sheikh Mehdi Es-Sumaide'e visited the Imam Hussein Holy Shrine on March 28, 2017.
Es-Sumaide'e, accompanied by a delegation from the Sunni Muslim denomination, met up with the Secretary-General of the Imam Hussein Holy Shrine sayyid Je'fer El-Musawi. During the meeting, Es-Sumaide'e, said that what is happening in Iraq is to demolish the Islamic unity.
Partitioning Iraq is a foreign interference, which includes igniting sectarianism in order to fulfill their plans. Therefore, Iraqi is the country that has Sunni and Shia Muslims and other religions and denominations, and Iraqi people must be united as one, said Es-Sumaide'e.
The politicians, known as Sunni Muslims, who are holding meetings outside Iraq, are not from Sunni Muslim denomination, and we have nothing to do with them, added Es-Sumaide'e.
He mentioned that the danger of terrorism is posing a threat to the neighboring countries. We have begun to hold courses for the preachers on teaching people the true Islamic principles, and how ISIS has distorted those principles and used them against humanity.
He concluded his speech with saying, "We will never let our country be destroyed, and we are supporting the Popular Mobilization Forces as an official foundation that belongs to the government."
By: Sedeaq El-Ezearjawi
Translated by: Mohammed Alobaidi
Attachments