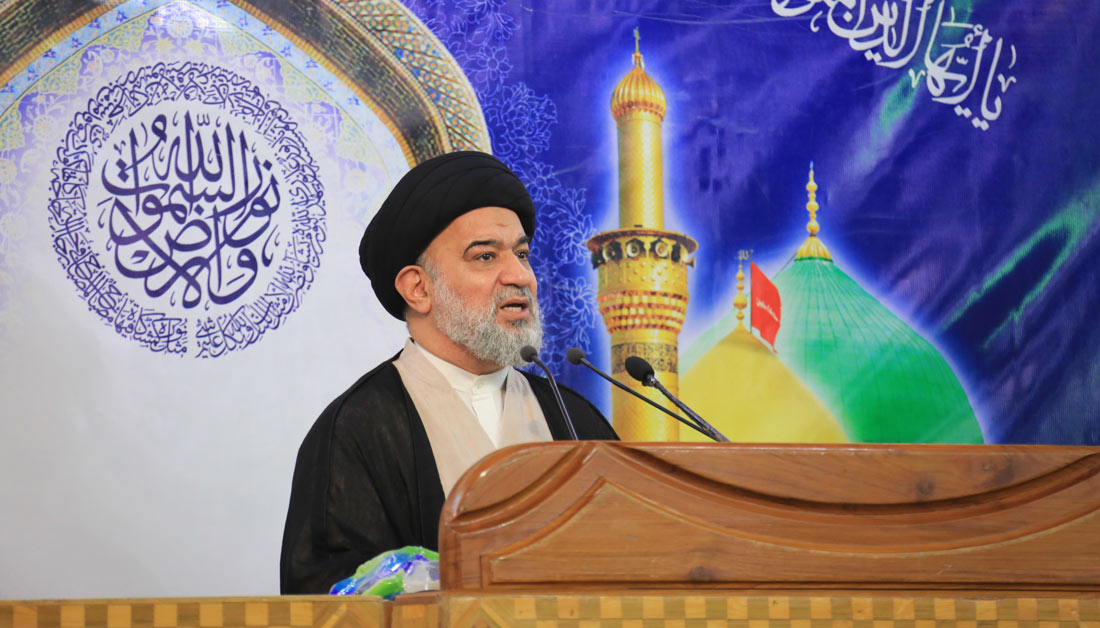 In Friday Sermon, held at the Imam Hussain Shrine on December 13, 2019, the Shia Muslim Supreme Religious Authority — His Eminence EsSistani — talked about the second anniversary of the victory over ISIS and Iraq's status quo.
Spokesperson sayyid Ahmed EsSafi said, "A few days ago was the second anniversary of the declaration of the victory over ISIS — the historic battle in which the Iraqi people fought to liberate parts of their country that ISIS had taken over."
During more than three years, he said, tens of thousands of the Iraqi people were martyred and many more were injured — they have immortalized themselves as brilliantly illuminated pages in the history of Iraq.
His Eminence, on this occasion, reverently remembered those who laid down their lives for their country and attained the highest levels glory, and extended his respect and appreciation to their families and to those who were injured and those who are still guarding their country against the rest of the terrorist ISIS.
EsSistani, addressing the Iraqis, "Ahead of you is a crucial battle, which is the reform battle, that requires work to end a long-drawn-out epoch of corruption and failure in managing the country."
EsSafi mentioned that two years ago, the Shia Muslim Supreme Religious Authority said — in the victory sermon — talking about combating corruption, "Although this battle (against corruption) has taken long, it is no less ferocity than the battle against terrorism, if not even more so."
His Eminence, EsSistani, indicated, "The noble Iraqis, who valiantly defeated the terrorists, are — with the assistance of God — able to engage in this war and gain victory, if they manage it well. Adopting peaceful means is, for certain, a prerequisite to gain victory. Optimistically, most of those currently protesting realize the importance of leading a peaceful protest, devoid of acts of violence, chaos, or causing harm to citizens' interests."
EsSafi clarified that the killings and kidnappings that took place within the past few days re-affirm what EsSistani repeatedly called for that all weapons must be possessed by the government, and no group — under any heading, outside the scope of the government — is allowed to be armed.
He also noted that the country's stability and maintaining civil peace are contingent on disarming the armed groups.
EsSafi also mentioned that EsSistani strongly condemns the killings, kidnappings, and all kinds of attacks, including the heinous and terrifying crime that took place in Wethbeh, Baghdad, last Thursday, calls on the relevant authorities to be responsible and catch the criminals and prosecute them, and warns against the repercussions of such crimes which affect the peaceful protest that everyone must take care of.
In terms of prosecuting the criminals, EsSistani stressed the necessity that the judiciary has to be the only authority that deals with all the crimes and violations, and no punishment is administered to the guilty but by law.
Imam Hussain Shrine
Attachments