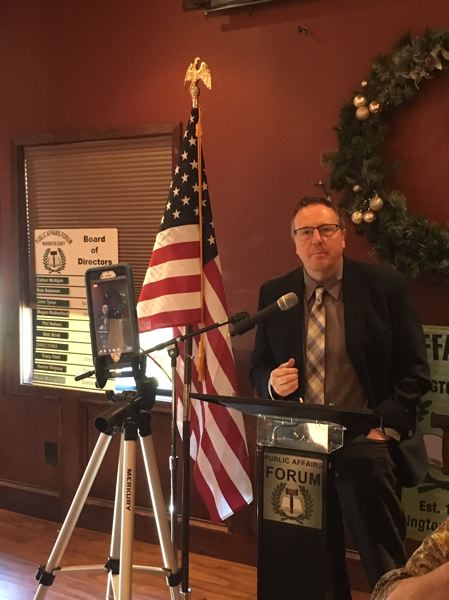 Pastor John Shuck of Southminster Presbyterian Church of Beaverton has returned from the pilgrimage of a lifetime — the Arbaeen.
Shuck described his journey at a Washington County Public Affairs Forum on Monday, Dec. 3.
"This is the largest peaceful religious gathering in recorded history," Shuck said. "Yet most people in America have never even heard of it."
Josh Townsley, executive director of Evergreen Habitat for Humanity in Vancouver, Wash., was with Shuck on the trip.
Shuck is also host of "Progressive Spirit" and "Beloved Community" on Portland radio station KBOO. His church is on Southwest Denney Road across from the Islamic Center of Portland, a Shia mosque — and his participation in conferences at Portland State University and the Husaynia Shia Islamic Society of Greater Seattle led to his invitation to Iraq.
"I learned more about my neighbors by going to Iraq," he said.
Shuck was part of a tour group that made the 50-mile trek from Najaf to Karbala to commemorate Arbaeen.
"I was moved by the story of Hussein and those who follow him," he said. "I wanted to be inspired by his courage."
A U.S. State Department advisory says: "Do not travel to Iraq due to terrorism and armed conflict."
"But I went there and I never felt safer," Shuck said. "When I was in Iraq, they were shooting up people in the United States."
Iraqi police and security forces were present at the shrine, and Shuck said he was able to walk unescorted in most places.
Karbala, which is just under 1 million population, has no water or sewer system, and no electrical grid. Generators supply most power. But mosques, charities and others along the pilgrimage route provide food without charge.
"They were incredible hosts," Shuck said.
"When they found out that I was from America, and they found out that I was a Christian minister, they were flipping over backwards with gratitude that I came to document their story and honor them."
"It was an amazing experience to go and realize that this is a walk for peace, justice — and resistance to tyranny wherever it may be."
"It means that every place and every day has its moments of injustice, but the call to respond is to say "I am with you, Hussein.' This is about who will stand for justice, regardless of religion."
Source: Beaverton Valley Times
Attachments