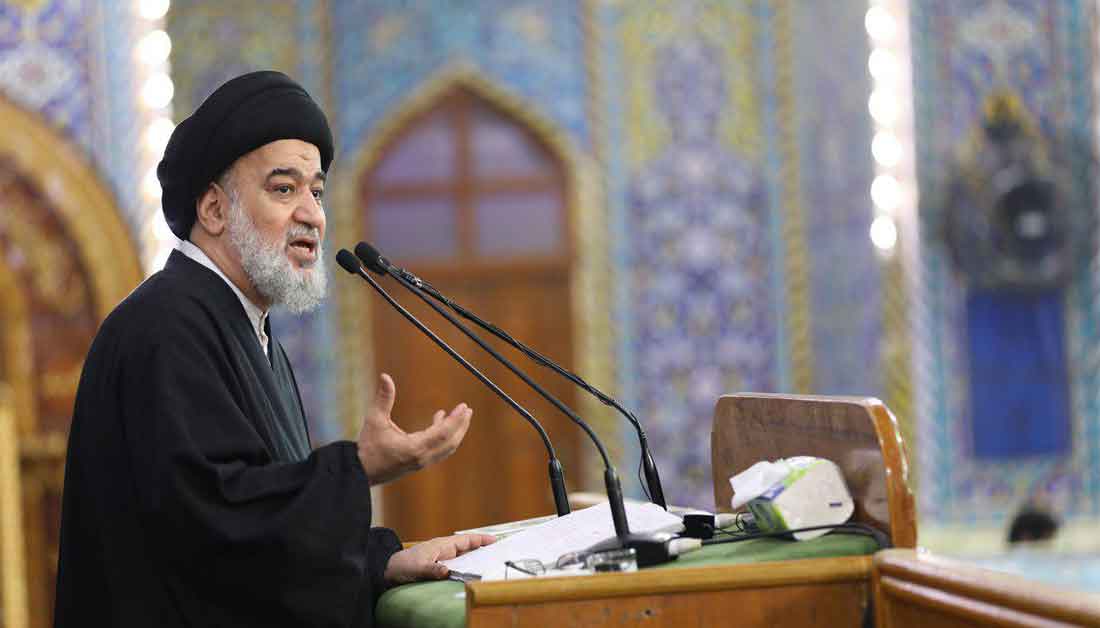 In Friday's Sermon held at the Imam Hussain Shrine on November 29, 2019, Sayyid Ahmed EsSafi, representative and spokesperson for the Shia Muslim Supreme Religious Authority read out a statement issued by the office of His eminence EsSistani.
EsSafi said, "The Shia Muslim Supreme Religious Authority, His Eminence EsSistani, is observing — with deep dismay and sorrow — the news of recent clashes in a number of cities, especially in Naserya and Najaf, the precious blood shed, and the damage and arson attacks on properties."
He added: "The Shia Muslim Supreme Religious Authority prays for mercy for the dear martyred, sends condolences to their families and prays for patience for them, and prays for the wounded, and reemphasizes the inviolability of peaceful protesters, their right of protesting and demanding reform — he also reemphasizes the inviolability of public and private properties and the necessity of not letting them be vulnerable to infiltrators' attacks. And peaceful protesters have to distinguish themselves from ill-intentioned protesters, ought to cooperate to repel vandals; whoever they are, and never let them exploit peaceful protests to damage private properties and assault their owners.
In regards to force majeure that Iraq is going through, and the relevant authorities' inability to tackle the recent developments, during the past two months, in terms of preserving people's rights and stopping bloodshed, the House of Representatives — from which the current government was formed — is invited to reconsider its choices, in this respect, and react according to the interest of Iraq and what preserves the blood of its people and protects it from being dragged into a spiral of violence, chaos, and destruction. It's also invited to promptly propose an electoral legislation package that satisfies the Iraqi people, in preparing to hold free and fair elections whose results sincerely reflect the Iraqi people's will, and procrastination and temporization — in this respect (holding elections), which is an expedient way to avert the current crisis peacefully and civilizationally under the constitution, — is going to cost the country a fortune, and everyone is going to regret it.
The enemies are plotting to achieve their nefarious objectives such as sowing chaos and destruction to drag people into infighting, and then return the country to the age of abominable dictatorship — everyone must cooperate to thwart that opportunity.
The Shia Muslim Supreme Religious Authority will always be supportive of the noble Iraqi people, and he offers nothing but advice and guidance on whatever leads to the Iraqi people's interest — and the Iraqi people can choose what they think is best for their present and future without having to be under the aegis of anyone."
Translation: Mohammed Elobaidi
Attachments