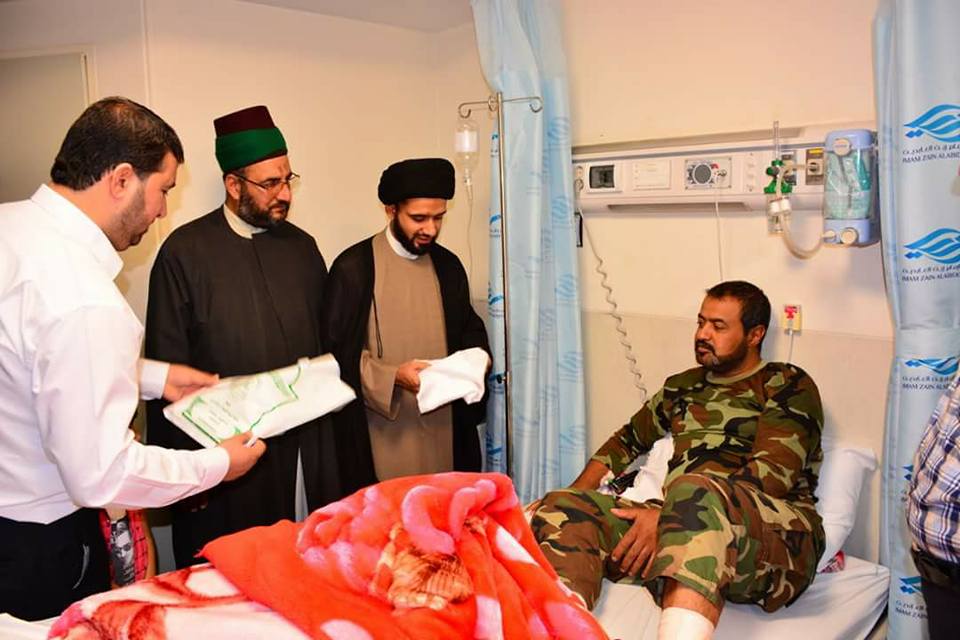 The General Secretariat of Imam Hussain Holy Shrine did not abandon the families of martyrs and wounded soldiers of the Sufficient Jihad Fatwa. Since its issuance by the Supreme Religious Authority on June 13, 2014, the Holy Shrine has undertook the responsibility of providing moral and material support in addition to following up on their life affairs. After the expansion of its work in this field, the Department of Care for Families of Martyred and Wounded Soldiers was formed.
 Ahmed Rasool, Head of Department, said, "After the issuance of the Fatwa to liberate the country from Daesh, volunteer forces were formed to support the Iraqi security forces, one of which was Imam Hussain Holy Shrine's Ali al-Akbar Brigade. After the Brigade fought in the liberation battles of Jurf al-Nasr, Baiji and surrounding areas, many martyrs and wounded volunteers were left behind, urging the Holy Shrine to take care of them through a foundation dedicated to caring for their families."
The Department sponsors and provides health, educational and living care for families of martyred and wounded soldiers.
The health care includes supervision and following up on cases of the wounded soldiers and coordinating with department delegates in other countries such as India, Iran and Lebanon for treatment, if necessary.
The educational care includes following up on the grades and studies of the martyrs' sons/daughters, awarding the honor students through holding ceremonies in university halls, and establishing general activities such as scout camps, leisure trips and motivational competitions during the summer and spring breaks.
The social and living care includes following up with the living conditions of the martyrs' families and providing support and aid to them such as house construction and renovation, house furnishing, food baskets, household appliances, school supplies, etc.
The head of the department mentioned the cooperation of charitable foundations with them, saying, "We cooperate with some charitable foundations that establish programs for this segment of society. The Imam al-Murtadha Charitable Foundation has provided continuous support and various activities, including following up with the obstacles and social problems experienced by the martyrs' families and trying to find appropriate solutions through some specialists in psychology and the Family Counseling Center of the Holy Shrine.
Attachments