Intellectual Week of Aba al-Fadl al-Abbas in Germany
International
2018-10-10
587 Views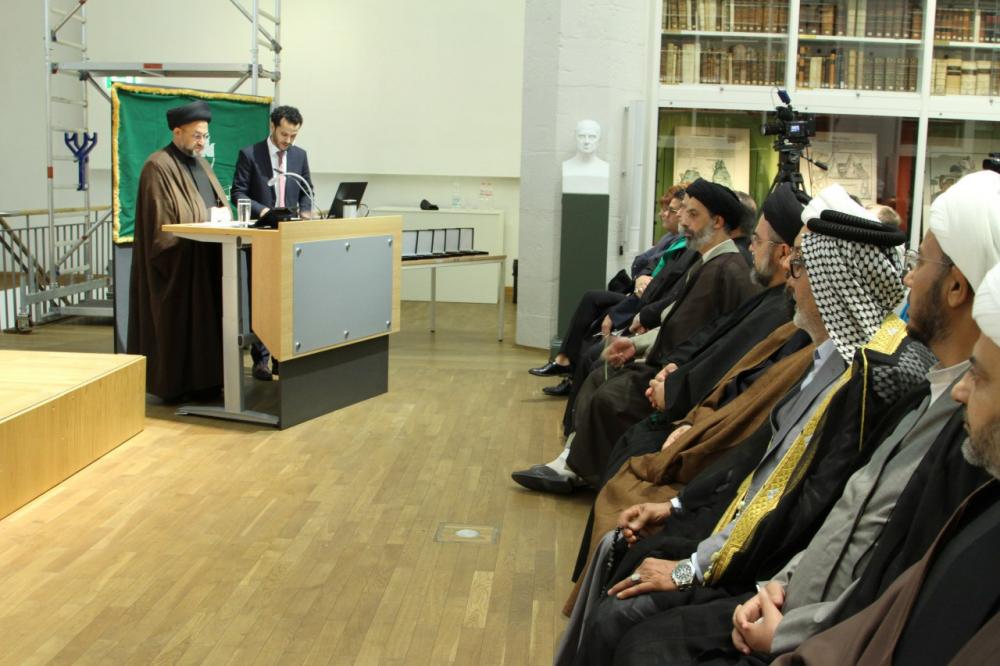 The representative of al-Abbas Holy Shrine in Europe Sayed Ahmad al-Radhi al-Hussaini delivered a speech in the opening of the First Intellectual Week of Aba al-Fadl al-Abbas in Germany, saying:
"On behalf of the holy shrine, I would like to thank you all for attending and I'd like to thank the Faculty of Islamic Studies for establishing this conference, which reflects tolerance and communication and emphasizes the culture of dialogue between religions."
He added, "We came from Iraq - the land of Mesopotamia, the country of the father of prophets; Prophet Abraham. We came from Najaf - the city of the leader of human justice; Imam Ali Ibn Abi Talib. We came from Karbala - from the vicinity of the Master of Martyrs; al-Hussain Ibn Ali, the martyr of freedom who was slaughtered thirsty near the Euphrates River, and from the vicinity of his brother Aba al-Fadl al-Abbas. We are conveying for you the greetings and supplication of the Senior Official of the al-Abbas Holy Shrine, Sayed Ahmad al-Safi."
The official from the holy shrine pointed out, "For years, the number of conferences, seminars and lectures on tolerance, coexistence and interfaith dialogue is increasing, which is a great phenomenon in a region where religious crises have increased and extremist groups have taken the lead in media."
Al-Hussaini called for the need to promote interfaith dialogue and to adopt spiritual sources and common moral values as platforms for research in the study of religions and the dialogue between those who follow them.
In conclusion, he directed his thanks and gratitude to the President of the University, and invited her on behalf of his eminence Sayed Ahmad al-Safi to visit Iraq, to support science and universities, as the al-Abbas Holy Shrine has two large new universities. He also thanked all those who supported and contributed to the establishment of this event, especially the brothers in the Interfaith Encounter Association and the students of the University of Göttingen.