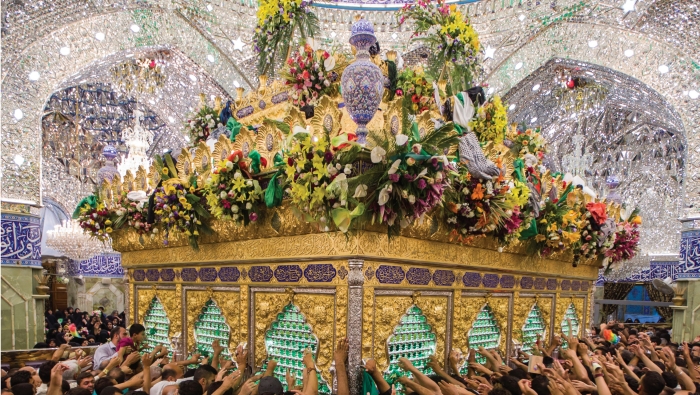 Al-Abbas Holy Shrine
Al-Abbas B. Imam Ali was one of the greatest Islamic and historical characters. He reflected the real brotherhood trait during  Al-Taff battle when he sacrificed himself to protect his family, in addition to granting his palms for the sake of defending the Islamic values and idealism of Ahlul-Bayt, which Yazid was seeking to alter.  
First construction – 65 A.H.
Al-Mokhtar Al-Thaqafi constructed the first building of the holy shrine, which was made from brick and mud.
First reconstruction – 201 A.H.
Imam Redha ordered his followers to expand the holy shrine, thus rebuilding it.
Second reconstruction – 407 A.H.
Al-Hassan Sehlaan Al-Rahmarazi added new exterior walls outside the Holy Shrine.
Third  reconstruction - 859 A.H.
Sedy Ali, the governor of Shiraz  ordered reconstruction and restoration of the holy shrines in Karbala after the attack from Almshashon.
Fourth reconstruction – 1044 A.H.
King Abbas Safavid decorated the dome of the shrine Kashany  tile.
Fifth reconstruction – 1183 A.H.
Nadir Shah Alofshari rebuilt the front entrance of the Holy Shrine.
Sixth reconstruction – 1406 A.H.
The outer wall of the courtyard was successfully completed, and was renewed with concrete and yellow coated Karbala tile bricks.
Seventh reconstruction – 1416 A.H.
The Ministry of Endowment gilded the northern part of the front minaret
Eighth reconstruction – 1428 A.H.
Prepared by a few Ahlul-Bayt followers and under the supervision of the Engineering and Technical Department of the Holy Shrine, the walls of the shrine were renewed to alabaster and the rooms and corridors were enhanced.
Attachments