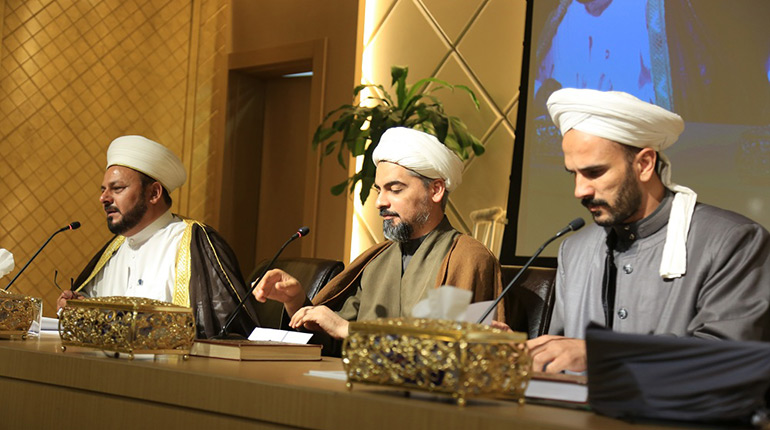 In commemoration of the birthday anniversary of Lady Fatima, daughter of Prophet Mohammed, (Allah's Blessings and Peace Be Upon Them and Their Pure Family), Imam Hussein Holy Shrine held a conference under the title, "With Islamic Fraternity We build a Prosperous Iraq."
Afdhel Esh-Shami, Deputy Secretary-General of Imam Hussein Holy Shrine, delivered a speech in which he said, "Terrorists don't target Shia Muslims because they are Shia, nor do they target Sunnie Muslims because they are Sunnie, but they target Iraqis because they are Iraqis."
What happened in Anbar City and in Mosul City saddened us, and that what made the holy shrines in Kerbala City receive a massive influx of displaced people, added Esh-Shami.
Dr. Falih El-Quraishi said that following the principles of Ahlul-Bayet (Peace Be Upon Them) is the identity of Muslims, for they are loved and admired by Muslims and non-Muslims.
The Shia Muslim Supreme Religious Authority his Eminence sayyid Ali Es-Sestani succeeded in preserving the Islamic unity and the Iraqi unity, said further El-Quraishi.
Sheikh Adnan El-Ani, head of Call for Islam and Guidance (Sunnie Muslim) Foundation, delivered a speech in which he said, "What has happened in Iraq is has been done by the international intelligence, because it is impossible for Sunnie Muslims to kill Shia Muslims because of their belief.'
If it were not for the popular mobilization forces, Iraq would never be safe, as it is now; they succeeded in restoring confidence to the military system, added El-Ani.
By: Sedeaq El-Ezearjawi
Translated by: Mohammed Alobaidi